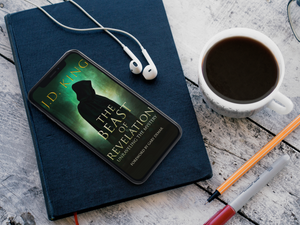 The Beast of Revelation: Unraveling the Mystery (Audiobook) —J.D. King
Regular price $19.99 $9.99 Sale
Any Christian who's fearful about the future can regain hope by reading The Beast of Revelation: Unraveling the Mystery because it unpacks history and lesser known biblical precepts. Some mysteries are hidden in plain sight.

"J. D. King has done a wonderful thing. He has put the antichrists and beasts in biblical perspective."—Gary DeMar, Ph.D., author of Last Days Madness and host of the Gary DeMar Show

• 666
• Mark of the Beat
• The End of the World

Discussions about "end-time" evil ramped up in the third decade of the twenty-first century. A global pandemic, failing economies, and political discord has affected billions. Amid fear, families feel like they're living at the end of the world.

Rumors about the "Antichrist" pops up on social media. Individuals ask whether this shadowy figure is about to emerge. Myriads are frightened—paranoid things are spinning out of control. In troubling eras, believers must return to what's trustworthy. Individuals need a fresh look at what scripture reveals. In The Beast of Revelation: Unraveling The Mystery, J. D. King delves into hidden corners of history and scripture—going where few have gone.

This meticulously researched work unpacks ancient mysteries, helping readers grapple with some of their deepest questions. Any Christian frightened about the future will regain hope by reading this book because it answers questions people are yearning to understand. Not all is as it seems.

Behind the most baffling mysteries of this era, you can rediscover hope.