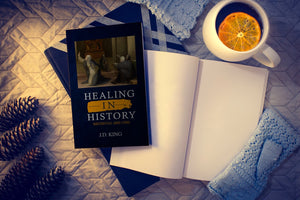 Healing in History Volume Two: (Medieval 600 - 1500)
Regular price $16.99 $15.00 Sale
What if I told you that healing encounters shaped Christianity over the centuries and has been a catalyst for global missions? Physical deliverance through the name of Jesus is an expression that unifies diverse strands of Christendom.
The Healing in History Series by J.D. King is a multi-volume collection that explores the works of God through numerous Christian traditions. The author spent sixteen years producing this work and consulted over 2,000 volumes. It is organized around Christianity's theological and historical classifications--examining how the ministry of healing has traversed a number of diverse movements. Stupendous healing stories not only help us reconcile the past; they are also a catalyst for the future.
Søren Kierkegaard declared, "Life must be understood backward, but ... it must be lived forwards."This book series was originally released in three volumes as Regeneration: A Complete History of Healing in the Christian Church (Lees Summit, Missouri: Christos Publishing, 2017).