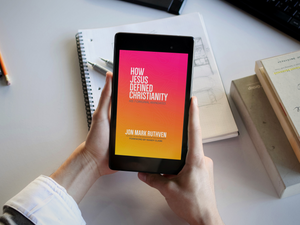 How Jesus Defined Christianity: His 7 Biblical Mandates | Jon Mark Ruthven (Digital Download)
Regular price $29.99 $9.99 Sale
"Dr. Ruthven's insights in this book carry believers beyond the shackles of traditional theology into a dimension of fruitfulness and tremendous power. This is what the Church desperately needs in this hour."—Randy Clark, D.Min, United Theological Seminary, Missionary-Evangelist and Founder of Global Awakening

in How Jesus Defined Christianity: His 7 Biblical Mandates, Dr. Jon Ruthven unpacks God's purpose for humanity from Adam through Jesus (hint: it's more than just reading your Bible and going to church). This book offers a revolutionary and thoroughly biblical vision to commune with God and bring the kingdom of heaven to earth.

Over the last fifty years, Dr. Jon Mark Ruthven has had a massive impact in bringing the power of the Holy Spirit to center stage among theologians, as well as in training some of the notable pioneers in charismatic Christianity, including Randy Clark and Rolland Baker. One of Dr. Ruthven's unique contributions in the debate between cessationists and continuationists was to bring attention back to the big picture emphases of Scripture. Now, the culmination of this theologian's life work is coming to print.
In this limited time offer, you will receive the ebook, and four-part audio teaching from Ruthven with the accompanying notes.