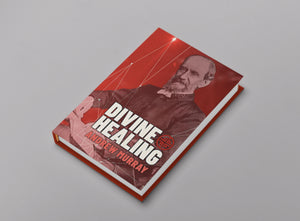 Divine Healing: A Biblical Approach — Andrew Murray
Regular price $15.00 Sale
Andrew Murray's beloved work, Divine Healing, has been in print in one form or another since 1884. It was originally a smaller work written in Dutch titled, Jezus de Geneesheer der Kranken (Jesus the Physician of the Sick). It was later expanded and published in both English and French.
For Murray, this book was more than a Bible lesson; it was a personal testimony of his remarkable faith journey. It conveyed the joy that he experienced after experiencing healing from a severe throat affliction that sidelined him for two years. This biblically infused work was one of the notable publications that emerged from the transatlantic Faith-Cure Movement in the late Nineteenth century. This cross-denominational healing revival impacted multitudes throughout Europe and North America.
During this era, there was an explosion of books on divine healing. Devout believers were drawn to works like: Otto Stockmayer, "Sickness and the Gospel" (1880), A.J. Gordon, "The Ministry of Healing" (1882), A. B. Simpson, "The Gospel of Healing" (1890). There were other notable books written by individuals such as Dr. Charles Cullis, W.E. Boardman, R. Kelso Carter, and Carrie Judd. Nevertheless, Murray's book was one of the most celebrated. It was second only to A. J. Gordon's work in popularity.
Murray and his Faith-Cure contemporaries shared personal stories and made astute biblical observations in their teachings. They combined robust theological insights with spiritual fervor and inspiring calls to action. These men and women provided a foundation for a burgeoning movement that claimed that the gifts of the Spirit did not pass away with the Apostles.
Many of the contemporary works on healing are not as rich as the books from the late nineteenth century. Newer publications often focus on sensationalism and superficial biblical observations. Most are personality driven and rather shallow. One observer said, "But that's exactly what the people want in the Twenty-First century." Hopefully he is wrong.The older voices have been pushed aside by contemporary television and social media personalities, but I think some want to return to the older paths. The spiritually hungry want to go back to the pioneers who had integrity and a proven track record. They want to engage the insights of individuals who finished well and whose character stood the test of time.
Christos Publishing wants to re-dig the ancient wells and restore the voices of the mothers and fathers. Andrew Murray was a remarkable man whose entire life was centered on loving Jesus. He was a powerful voice and an important spiritual forerunner. Modern day believers need to know what he had to say about divine healing. So, we offer a reprinting of Andrew Murray's Divine Healing.
In addition, to including an unabridged and freshly formatted version of this book, we have also included a biographical sketch of Andrew Murray by J.D. King. Take a few minutes to learn about this incredible man and the notable life that he lived before you read his wonderful teaching.