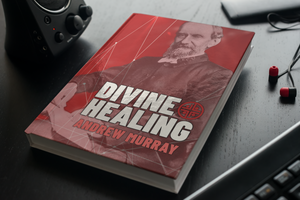 Divine Healing: A Biblical Approach (Hardback Book)— Andrew Murray
Regular price $29.99 $23.99 Sale
Discover the power of faith and healing with Andrew Murray's Divine Healing - a beloved work that has inspired readers for over a century. Originally written in Dutch as Jezus de Geneesheer der Kranken (Jesus the Physician of the Sick) and later expanded and published in both English and French, this biblically infused work is a personal testimony of Murray's remarkable faith journey and his experience of healing from a severe throat affliction.
Murray's work is part of the notable publications that emerged from the transatlantic Faith-Cure Movement in the late Nineteenth century, which impacted multitudes throughout Europe and North America. Among the explosion of books on divine healing during this era, Murray's book was one of the most celebrated - second only to A. J. Gordon's work in popularity.
Unlike newer publications that often focus on sensationalism and superficial biblical observations, Murray and his contemporaries shared personal stories and made astute biblical observations in their teachings. They combined robust theological insights with spiritual fervor and inspiring calls to action. This is what sets their work apart and provides a foundation for a burgeoning movement that claimed that the gifts of the Spirit did not pass away with the Apostles.
At Christos Publishing, we believe that the voices of the mothers and fathers of the faith should not be forgotten. That's why we're re-digging the ancient wells and restoring the voices of the past. Andrew Murray was a remarkable man whose entire life was centered on loving Jesus. He was a powerful voice and an important spiritual forerunner. Modern-day believers need to know what he had to say about divine healing.
In addition to an unabridged and freshly formatted version of the book, we've also included a biographical sketch of Andrew Murray by J.D. King. Learn about this incredible man and the notable life that he lived before you read his wonderful teaching.
Experience the power of faith and healing with Andrew Murray's Divine Healing. Order your copy today and join the many who have been inspired by this timeless work for over a century.