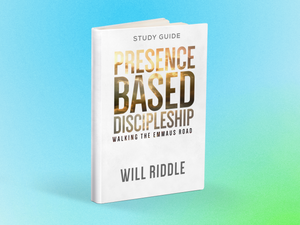 Presence Based Discipleship Study Guide
Regular price $15.00 $13.99 Sale
This study guide offers an enhanced experience for individuals and groups engaging the transformative principles presented in the book Presence Based Discipleship: Walking the Emmaus Road by Will Riddle. The subsequent pages provide a framework that encourages conversation and experiential learning for pastors, mentors, and disciple makers.

For each chapter, we have crafted a series of thought-provoking questions that align with the chapters from the book. While these serve as a catalyst for personal reflection, they are ideally suited for stimulating discussions in a group setting. It would be wonderful if you studied this with your ministry colleagues and those who are impacting the lives of believers.

Besides these questions, this guide also includes partner exercises at the end of every chapter. We designed these for one-on-one reflections with a trusted colleague. This will help to cultivate a greater awareness of what it means to impact the lives of other believers.

By actively taking part in this discussion and engaging with others, you can discover the principles of presence-based discipleship. This will enabler you to embark on a transformative journey of changing lives.