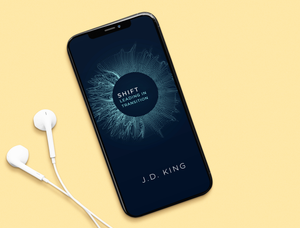 Shift: Leading in Transition - J.D. King (Audio Book)
Regular price $15.00 $9.99 Sale
Health crises, social unrest, and combative politics are seeping into our culture. In reaction to the chaos, anxiety has skyrocketed. How do we find our way through the turmoil?
Drawing from the Bible, history, and everyday stories, J.D. King delves into the nuances of crisis leadership. During confusion, we need clarity and renewed focus.
Where are those who have both the character and decisiveness to take the helm in troubled times? Society needs ministers, entrepreneurs, and creatives who can envision a better future and lead individuals into it.
This book draws on history, Scripture, and practical examples to unpack the meaning of effective leadership. Within these pages, you're invited on a journey that will position you to navigate transitions and make a difference.
Shift: Leading in Transition will help you navigate disruptions and revolutionize the world.