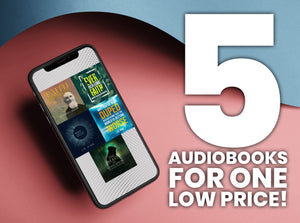 Special Audiobook Collection (Audio Download)
Regular price $75.00 $25.00 Sale
Are you always on the go but still want to enjoy a good read? Look no further than audiobooks! With the ability to listen in your car or while working out, you can enjoy the pleasure of reading no matter where you are. And with Christos Publishing's exciting audiobook bundle, you'll have access to a collection of incredible titles that will keep you engaged and inspired.
The Beast of Revelation: Unraveling the Mystery by J.D. King

Why You've Been Duped Into Believing That the World is getting Worse by J.D. King

Shift: Leading in Transition by J.D. King

Faith Healing: Insights From Ethan Otis Allen, the First American Healing Evangelist

Ever-Increasing Faith: A Charismatic Classic by Smith Wigglesworth
Don't miss out on this exciting offer! Grab this bundle from Christos Publishing today and take your listening experience to the next level.