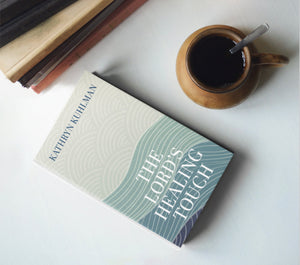 The Lord's Healing Touch — (Hardback Book) Kathryn Kuhlman
Regular price $23.00 Sale
Kathryn Kuhlman (1907-1976) was a holy spectacle. She was one of the most colorful and engaging healing evangelists of the twentieth century. No woman since Maria Woodworth-Etter (1844-1924) and Aimee Semple McPherson (1890-1944) so captivated the masses. Decades after her passing, she is still an enigma.
After reaching the loftiest heights of ministry, Kuhlman died from a heart attack in 1976. Her intimacy with God, along with her practical Bible teaching, and heartfelt healing ministry, affected millions of people around the world. Most of her publications have remained in print over the decades and curious believers search for her videos online. Among older Pentecostals and Charismatics, she remains the gold standard.
But nearly fifty years after her demise, Kuhlman's influence is dwindling in Charismatic circles. Younger believers are ignorant of her remarkable contributions. Over the years Kuhlman hasn't arrested the gaze of as many academics as one might presume. Her unfortunate absence from the annals of history reiterates that all influence is momentary, and all will ultimately fade from the scene.
In the Old Testament, the Prophet Elijah told Elisha to take a second look while awaiting rain. I think that analogy applies here as well. Kuhlman represents ideals and oract that need to be restored in this hour. We should not look to her as a woman whose time has passed. She has things to show a whole new generation.
Kathryn Kuhlman deserves a second look—particularly in the third decade of the twenty-first century. This gifted evangelist not only exemplified deep spiritual hunger, she modeled what it meant to be captivated by Jesus. Kuhlman understood that many of the greatest miracles come out of the overflow of worship. This revelation needs to be rediscovered in our era.
While Kuhlman was no theologian, she had the ear of ordinary individuals. She knew how to speak their language. This mysterious intercessor understood how to make divine healing simple enough for a child to understand. Can a mystic be more profound than a teacher? Perhaps.
Christos Publishing offers some of Kuhlman's teaching on divine healing. It was published decades ago by her ministry without much fanfare. Given Kuhlman's wisdom and profound love for Jesus, it's valuable to revisit her words.