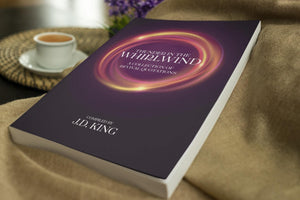 Thunder in the Whirlwind: A Collection of Revival Quotations—Paperback book by J.D. King
Regular price $15.00 Sale
"Your thunder roared from the whirlwind; the lightning lit up the world! The earth trembled and shook" (Psalm 77:18).
The fire in others can light a spark in us. When believers reflect on the messages and experiences of older revivalists, it opens the door for fresh awakening in our generation.
Thunder in the Whirlwind: A Collection of Revival Quotations is an inspiring compilation of comments and prayers from the great intercessors and preachers. On the pages, you'll read striking quotes from individuals who knew Jesus intimately. These men and women still have much to say to us.
The compiler, J. D. King, shares some of his personal revival experiences, and then divides the book up into five engaging chapters:
1. What is Revival?
2. Preparing for Revival.
3. Praying for Revival.
4. Encountering Revival.
5. Carrying Revival.
The revivalists quoted in the chapters of this book include: John Wesley, George Whitefield, Charles Finney, Jeremiah Lamphier, Charles Spurgeon, Evan Roberts, D. L. Moody, Smith Wigglesworth, John G. Lake, William Seymour, Oral Roberts, Jack Coe, John Kilpatrick, Steve Hill, Steve Gray, Randy Clark, Bill Johnson, Heidi Baker, and many more.
The thunder is still roaring in the whirlwind, and you can pick it out—if you have ears to hear.